Finding the perfect black dress of your dreams that you can wear on certain occasions is not as easy. Keeping in mind the body type, style, preference, and many other things is the key when it comes to buying a black dress. But how would you figure out how to style it with the perfect necklace set ? Let's find out!
Accessorizing can make or break the whole look of your ensemble. What better than pairing your pretty black dress with a necklace. There are a number of things that you need to keep in mind when it comes to styling your black dress with a perfect necklace. The most important thing is to style your dress with a necklace depending on your dress's neckline.
To find out what necklace looks the best with what kind of neckline, read on!
Strapless black dress– Wearing a big necklace along with bold earrings can make you look too much. Your whole look will come off as crowded; you don't want to do that now. Make sure you pair your strapless dress with a minimalist necklace with a small pendant. When it comes to a strapless dress, going minimal is the key. Less is more here. Some celebrities have paired their strapless dresses with a pendant necklace or a longer chain that falls at mid-chest and sometimes even at the waistline.
V-neckline– If you have opted for a deep plunging V-neckline, then you are already on the right track. It means you are going for the wow factor. To be on the safer side, you can also easily opt for a choker necklace and pair it with simple earrings. You can do this if your neckline isn't as deep. But if you want to try out something new, then you can pair your choker necklace with a long chain minimal necklace. If your neckline is deeper, then you can also opt for a longer chain with a long pendant that is just above the end of the neckline. This type of necklace is called a lariat necklace. It lengthens your torso, making you look leaner and taller.
Square neckline– A square neckline can be a bit hard to accessorize. Though it is the case, you still get to choose from certain options. To be on the safer side, go for a collar necklace or a choker necklace. You can also opt for a short-layered chain or a delicate necklace. It will enhance the neckline and won't look too crowded. It is important that your jewellery provides contrast but doesn't look too bold. A rounded shaped pendant in your necklace can add a lot of charm to your neckline's open space.
Sweetheart neckline– A dress with a sweetheart neckline is a type of strapless dress that has a curvy and more romantic looking neckline. With this type of neckline, you can go bold and make a statement. You can experiment with this look and try out a statement necklace. It can be chunky and large.
Necklines aren't the only thing that matters when it comes to deciding on a necklace. Check out the infographic below for more tips on how to coordinate your jewelry with your outfit!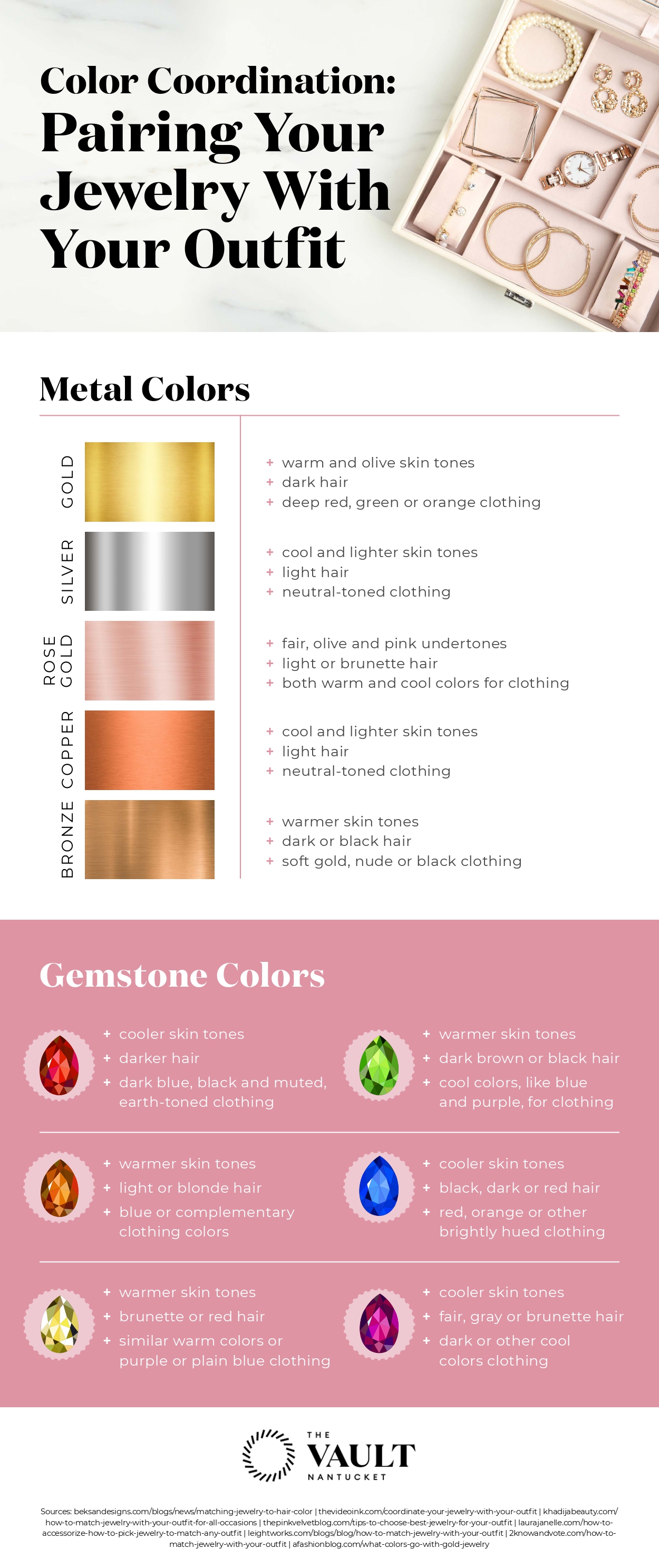 Infographic provided by The Vault Nantucket, a curator of luxury rings for women