If there's one thing that has been trending for the past 2 years in the beauty industry, it is the keratin hair treatment. Every expert suggests it for transforming the way your hair looks and feels. In fact, many consumers have also taken the plunge and have opted for safe and effective options for keratin treatments around India.
So what's all the buzz and is getting a keratin treatment worth it? Before you figure out the particulars, it is also important to understand what keratin does for your hair.
So what is Keratin?
Keratin is a naturally found protein in the hair and is primarily responsible for protecting the hair from humidity, thereby preventing frizz. However, due to prolonged exposure to the sun, pollution, dust and the use of harsh chemical-laden hair products, the hair may lose its keratin with time and become all dry, dull and frizzy. That's where a Good Formaldehyde-free keratin hair treatment can prove to be extremely helpful.
A keratin treatment is known to de-frizz even the tightest curls. As a result, keratin treatment has emerged as one of the most popular ways to get smooth, shiny and silky hair. What makes a keratin hair treatment even more appealing is, that with proper care, its results can last up to six months.
So, if you've been dealing with frizzy hair, you should definitely consider getting a keratin treatment. However, to make sure that the results last longer, you must take good care of your hair after a keratin treatment. In today's market, you'll find keratin products readily available that can make your post-treatment hair care routine look fabulous. And what are the ways in which you can take care of your keratin-treated hair? Let's find out.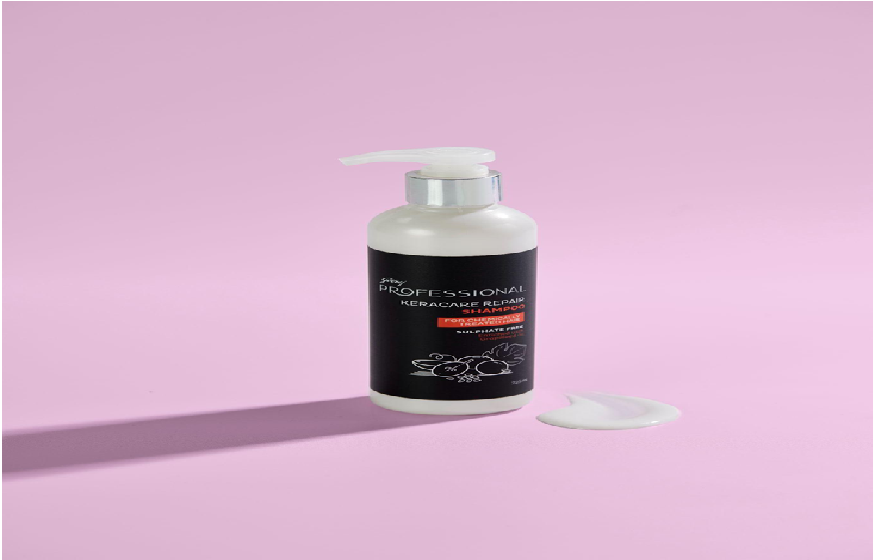 3 Ways to Care for Hair Post Keratin Treatment
I would personally recommend following these 3 hair care tips for a post keratin treatment. This will ensure that your newly treated hair does not get damaged easily and the results last longer.
1. Wash Your Hair After 72 Hours
The first 72 hours after getting a keratin hair treatment are extremely crucial. Do not be in a rush when it comes to washing hair after a keratin treatment.
2. Choose Your Shampoo Wisely
To keep the shine of your hair intact for a longer duration, make sure that you pick nothing but the best Sulphate and Paraben-free hair shampoo for your hair. To lock down your options, you can try looking for shampoos that are devoid of sulphates and parabens since they are safe for your hair.
You can try the Godrej Professional's sulphate-free range of hair care products i.e.
The Keracare Recharge Shampoo is made for normal to dry hair to hydrate and nourish it with every wash. It helps smoothen out frizz from the hair making it soft, shiny and bouncy. Enriched with Acai oil and menthol, this is one of the best keratin hair shampoos available.
Usage Recommendation:
Wet your hair thoroughly and apply the Keracare Recharge Shampoo evenly on your scalp.
Lather it at the roots and then work it through the lengths of your hair.
Rinse well.
Alternatively, you can also opt for the Keracare Repair Shampoo. It is enriched with Grapeseed Oil to nourish hair from the roots, reviving it and making it soft and healthy.
How to use the best keratin hair shampoo for chemically treated hair?
Wet your hair thoroughly and apply the Keracare Repair Shampoo evenly on your scalp.
Lather it at the roots and then work it through the lengths of your hair.
Rinse well.
3. Deep Condition Your Keratin-Treated Hair
Deep conditioning nourishes your keratin-treated hair and helps it grow. You can consider using a keratin hair mask every week. This will prevent the effects of humidity and keep your hair smooth and glossy. The Keracare Recharge Conditioner & Keracare Repair Masks are perfect choices from the house of Godrej Professional.
Wondering how you can make the most out of your masking ritual?
Take a generous amount of the Keracare Repair Mask and apply it to wet, shampooed hair.
Distribute the mask evenly on the scalp and massage gently with your fingertips.
Leave it on for at least five minutes and rinse thoroughly.
This is one of the best hair products in India to control frizz and moisturise the hair, by improving overall hair health. It is a must if you have dry hair, and can otherwise be used once a week or once in two weeks.
What NOT To Do Post Keratin Treatment
Whether your stylist makes you aware or not, here are 2 things you should never do after getting a keratin treatment for your hair.
1. Do Not Overwash or Bleach Your Hair
On a separate note, it is important to ensure that you do not bleach your hair once you are done with a keratin treatment. The same thing is applicable to colouring your hair too. If you wish to colour your hair, you must do it before the keratin hair treatment and not afterwards.
2. Do Not Use Hair Care Products That Contain Sulphates or Parabens
Sulphates can be detrimental to keratin-treated hair. Some hair products, especially shampoos and conditioners, contain sulphate that can severely harm your keratin-treated hair. Hence, it is advisable to opt for sulphate-free hair care products.
To ensure that your hair remains in good shape after a keratin treatment, you can consider using the Godrej Professional keracare range of shampoos, conditioners and masks. These are some of the best keratin hair shampoos and are sulphate-free. They also don't contain added parabens. Moreover, these products will help you preserve the keratin treatment and revive your chemically processed hair.
The Takeaway
So are you ready to try the keratin treatment that almost everyone is talking about these days? If yes, I suggest getting a keratin hair treatment done from a Godrej Professional salon near you, to get new life into your hair from the best experts in the industry.